Ferry to Australia
Australia ferries

Find all sailings and the latest special offers

Safe and secure booking

Feel confident booking with "The World's Leading Ferry Website"

Ferries to Australia

Compare and save, no hidden fees!

Millions of satisfied customers

We're the biggest ferry website in the world and we have a dedicated call centre, just in case
Ferry to Australia - Prices from £397
Book ferries in Australia on the following routes in both directions:
B-Shed to Rottnest Island
Barrack St to Rottnest Island
Cairns to Green Island
Cape Jervis to Kangaroo Island
Daydream Island to Great Barrier Reef
Daydream Island to Port of Arlie
Devonport to Melbourne
Hamilton Island Marina to Great Barrier Reef
Hamilton Island Marina to Port of Arlie
Hamilton Island Marina to Shute Harbour
Lucky Bay to Wallaroo
Magnetic Island to Townsville
Northport to Rottnest Island
Port of Arlie to Great Barrier Reef
Port of Arlie to Whitsunday Island
Queenscliff Harbour to Sorrento Pier
The most popular route is Melbourne to Devonport. The average price this month for this route is £64.50 for a foot passenger each way.
Australia Routes
Domestic Routes in Australia

Tasmania to Australia

1 crossings daily
Get price
How to book your Australia ferry
Booking an Australia ferry couldn't be easier with AFerry. You can either use the booking form at the top of the page. Or, if you see a price you like below, just select the number of passengers and click go.
---
More About Australia
Australia is a country made of many different cultures and traditions. The Australian aborigines had been living there for 40,000 years before the first British settlement in the late 18th century. A third of Australia is a desert. There are 40 million kangaroos and 20 million people of which 80% live on the coast.
Australia is home to many adventure activities, including water sports, bungy jumping, skydiving and snorkelling to name a few.
Australia travel guide
Australia is the largest country in Oceania and it's known for its touristic, historic and cultural attractions.
Despite being a relatively young country, Australia has a rich and fascinating history, coming from both Aborigine and European heritage. A visit to any Australian city shows what a culturally diverse and fascinating place the country has become.
---
Travelling in Australia
Searoad Ferries provides service at the Port Phillip Bay and Rottnest Express Ferries operates from the West Coast to Rottnest Island. They can be booked through AFerry.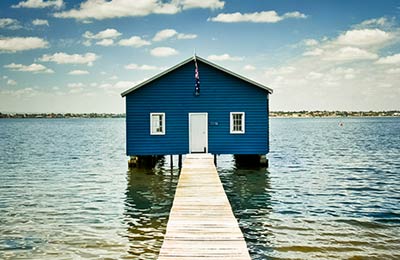 Come and discover Australia
---
Things to see in Australia
Australia is the perfect place to have an adventure, with its vast distances and breath-taking views. For example, the monolith Uluṟu in the Red Centre, the Kings Canyon or the spectacular coastline: more than 1,200 miles Great Barrier Reef in the Queensland coast. Discover the diving treasures of Heron and Lizard Islands and don't miss the opportunity to visit Rottnest Island and Kangaroo Island with their beautiful beaches and all the entertainment that the islands offer!
Of course is worth highlighting cities like Sydney and its famous Opera House or the capital Canberra where you'll find the National Gallery and The National Museum of Australia.
The long list of things to visit and do in Australia includes bungy jumping, scuba diving, snorkeling, horse trekking, health and beauty spas, fishing and much more.
AFerry offers the best way to find the cheapest ferry routes around Australia with our easy to use booking form.