Ireland Travel Guide
Ireland is rightly one of Europe's most popular tourist destinations. With a majestic countryside and vibrant modern cities full of culture and life, Ireland really is a dream destination.
Take a ferry to Ireland to discover a country that embraces its heritage and a new, vibrant culture. The countryside is beautiful and is criss-crossed with silver streams, lazy rivers, hidden lakes and peaceful canals. It has a vibrant and dynamic capital, Dublin where some of the friendliest locals and the greatest nightlife in Europe will ensure you have an unforgettable time.
Now that the political troubles of the '70s, '80s and '90s are behind it, Ireland is growing in popularity with ports like Dublin, Dun Laoghaire, Rosslare and Belfast (in Northern Ireland) being the gateway to the country that is known as the 'emerald isle' because of its lush greenery.
Throughout the country, there is trout and salmon fishing for anglers. Canals, rivers and larger lakes can be explored from the banks or from hired boats. You are never more than 80 miles from the sea and a coastline offering golden, sandy beaches, dramatic cliffs, hidden harbours and bays. The Irish countryside is also famous its winding roads and pretty cottages. Getting lost in the Irish countryside can truly be a pleasurable experience!
There are few countries as famous for their culture as Ireland
And, of course, there are few countries as famous for their culture as Ireland. Ireland is the country of James Joyce, Oscar Wilde and W.B. Yeats but also of the Corres, U2 and the Undertones. Wherever you are in Ireland, whether in big cities or small picturesque villages you will find a country that glories in its culture traditions. Whether, music, literature or the ancient art of a friendly but fiery discourse over the merits of Joyce or Wilde, you'll find Ireland has something to offer all culture vultures.
---
Travelling in Ireland
Rail services in Ireland are run by Iarnród Eireann and express trains run between the main cities. There are two classes of accommodation, with restaurant and buffet cars on some trains. Children under five travel for free.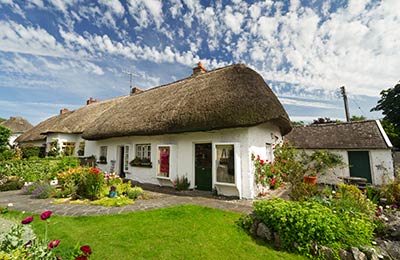 By car, traffic drives on the left and the road network links all parts of Ireland. All road signs changed from imperial to metric measurements in 2005.
---
Things to see and do
Why not pay a visit the Guinness museum which is part of the world-renowned brewery and Dublin's most visited attraction? As you sip on a pint of the 'black stuff' in the evening and enjoy the sounds of fiddle and flute in one of Dublin's many cosy and friendly pubs, you'll be able to show off your knowledge and appreciate the subtle qualities of one of Ireland's most famous drinks just a little bit more.
You'll be able to show off your knowledge and appreciate the subtle qualities of one of Ireland's most famous drinks just a little bit more
For literary enthusiasts an unmissable destination is the Dublin Writers Museum where Dublin's literary celebrities from the past three hundred years are brought to life through their books, letters, portraits and personal items. Discover the inner thoughts and secret motivations of some of the world's most famous and influential writers.
Of course, Ireland is also famous for its history and especially its tumultuous relationship with England. To get get a real haunting sense of Ireland's hard-hard edged history pay a visit to Kilmainham Gaol, where most of the rebels against British rule were incarcerated and where the leaders of the 1916 Easter Rising were executed.
---
Whether you want vibrant cities, culture galore or breath-taking scenery and coastlines, Ireland really does have it all which is why it is one of the most popular tourist destinations in Europe. Nothing could be simpler, more relaxing or romantic than taking the ferry to Ireland. Whether you travel from the UK or France, taking the ferry gives you the chance to explore this magnificent country at your leisure.