Le Havre Ferries
Le Havre Ferry Port - Prices from £295
Ferries from Le Havre in France sail to Portsmouth in the UK with DFDS Seaways and Brittany Ferries. You can find a list of sailing times and departures below alongside a list of our best prices.
Le Havre Special Offers
8 days in France from £99 pp for car + 2 people return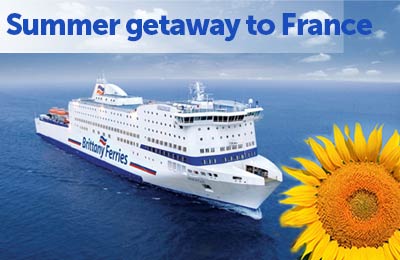 Book by 04/07/2019. Travel until 30/08/2019.
Sail with Brittany Ferries for 8 day return breaks from only £198 for car + 2 people, that's just £99 per person. Motorcycle and rider £99 return. Routes: Portsmouth to Caen, St Malo, Cherbourg and Le Havre. Poole to Cherbourg and Plymouth to Roscoff. Travel until 30 August 2019. Book by midnight 4 July 2019. Travel can commence in UK or France.
About Le Havre
The Le Havre ferry port is the first port at the entrance of the English Channel, and is based in the largest city in the heart of Normandy, with a population of 196,000. The Havre de Grace was founded in 1517 by King Francois (1st), because of the silting up of the Honfleur and Harfleur ports situated in the bay of the river Seine. You can book all ferries to Le Havre with AFerry
Le Havre is situated at the mouth of the River Seine with Paris only 200km away, making Le Havre the closest port to Paris. Le Havre itself is a nice place to visit with its sightseeing and shopping. Much of the shopping is in the shape of street markets and shopping centers. The Quartier Grand Centre is the main shopping centre, with a covered market and pedestrianized streets. The Quartier St Francois is near the port and has a daily fish market as well as charming bars and restaurants. Le Havre now also boasts Frances largest skate park, which is ideal for families and kids.
Ferries to and from Le Havre
DFDS Seaways provide services to Le Havre from Portsmouth, a route previously run by Transmanche and LD Lines. On board with DFDS Seaways you will find the highest levels of comfort combined with speed along with a wide range of facilities. These include bars, a self-service restaurant and shopping. You can also choose luxury reclining seats or enjoy the comfort and peace of a crossing in your own cabin.
Brittany Ferries, formed in 1972, is the leading ferry company on the western and central channel with Ferries to the North of Spain, France and Cork in Ireland. Brittany Ferries operates one of the most modern fleets on the Channel. Brittany Ferries latest ship, the mv Cap Finistère, started operating in 2010 and operates the Portsmouth to Santander and Portsmouth to Cherbourg routes. Onboard facilities include comfortable lounge areas, internet access and a wide range of bars and restaurants. Onboard some larger vessels you may also find cinemas, children's entertainment and discos.
Brittany Ferries économie, is a newly launched ferry service between Portsmouth and France and Spain. It is a 'no-frills' service, ideal for those looking to travel at the cheapest possible price. Etretat is the ship operating the new économie service. On board you will find a bar, movie lounge, seating area and en-suite cabins.
Le Havre port facilities
The main Le Havre passenger terminal is reserved for LD Lines, and is called the "Citadelle", which offers a full range of services and facilities, including boutiques, lounges, toilets, check-in desks as well as long-term parking facilities.
Getting to Le Havre
From Paris, take the motorway A13 (90km); then take the exit towards E46/E402 (Le Havre/Caen) and merge onto the A13(32km), take the exit onto the A131 towards Le Havre/Fecamp (15Km). Make a slight right turn at E05 (follow signs for Le Havre), and turn right at N15 and start following the signs for the Le Havre ferry port.
Le Havre is only 95Km from Caen. Take the A13 motorway and then the A29, following the signs for Le Havre and Le Havre Ferry Port.
From Dieppe, take the Avenue de Breaute/N27 for 50 Km, then take the exit onto the A29 towards Le Havre/Caen and continue for 65 Km, then take the A131/E05 toward Le Havre, continue on the N282 and finally take the N15, which will guide you to the city centre where you will find signs for the port.
The port is only a 20 minute walk to the city centre, simply follow the Pointe de Floride (walking path drawn on the pier).
There is a shuttle bus service that operates between the port and Le Havre city centre. The shuttle drop off/pick up points are located in the heart of Le Havre in front of St Michel Church, by the Coty shopping mall. Please ask onboard for further details.
Le Havre Ferry Port is only 5 minutes drive to town, 8 minute drive to the beach and the bus stop, or to the Railway Station. There is a taxi service available at the port, which costs approximately 8 Euros, to the centre of town.
Special Offers - Terms and Conditions
8 days in France from £99 pp for car + 2 people return
Subject to availability from a limited and variable allocation of space. New bookings only. Promotional conditions apply Travel can commence in UK or France. Additional supplements apply for extra passengers, pets, larger/over height vehicles plus trailers and caravans.