Plymouth Ferry
Plymouth Ferries - Prices from £227
Plymouth, on the South Coast of England, is one of Europe's largest natural harbours. Plymouth is also the largest city in the South West England. You can compare and find the cheapest ferry crossings available from Plymouth with our easy to use booking form. Brittany ferries is the company that operates out of Plymouth and below, you can find all the Plymouth ferry timetables, journey times as well as our best prices.
Plymouth Special Offers
8 days in France from £99 pp for car + 2 people return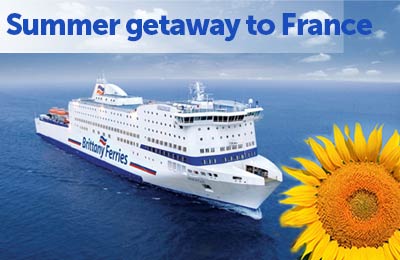 Book by 04/07/2019. Travel until 30/08/2019.
Sail with Brittany Ferries for 8 day return breaks from only £198 for car + 2 people, that's just £99 per person. Motorcycle and rider £99 return. Routes: Portsmouth to Caen, St Malo, Cherbourg and Le Havre. Poole to Cherbourg and Plymouth to Roscoff. Travel until 30 August 2019. Book by midnight 4 July 2019. Travel can commence in UK or France.
Ferries to and from Plymouth
Brittany Ferries operate ferries to England, France, Ireland and Spain and is the market leader in the Western Channel. From Plymouth, Brittany Ferries go to Roscoff on the Brittany coast in North West France and also to Santander in Northern Spain. Brittany Ferries has one of the most modern fleet of ships on the Channel. On board you will find relaxing lounge areas, internet access and a range of bars and restaurants. Larger ships may also feature cinemas, children's entertainment and even nightclubs.
Plymouth port facilities
The port of Plymouth has a large passenger terminal that should meet every concievable need with ease.
Getting to Plymouth
The port is clearly signposted from the A38, the main access road to Plymouth. Remember to come off before the Tamar bridge. Plymouth is also on the First Great Western mainline from London Paddington with three to four express trains a day stopping at the city.
About Plymouth
With its impressive natural harbour, Plymouth has long been an important site for British naval history. It was from Plymouth that the England Navy set sail in the 15th century to defeat the approaching Spanish Armada, an event that is still celebrated in many of Plymouth's museums.
Book your ferry to France or Spain from the largest city in the South West England simply and securely with AFerry.
Special Offers - Terms and Conditions
8 days in France from £99 pp for car + 2 people return
Subject to availability from a limited and variable allocation of space. New bookings only. Promotional conditions apply Travel can commence in UK or France. Additional supplements apply for extra passengers, pets, larger/over height vehicles plus trailers and caravans.