Plymouth to Roscoff Ferry
Plymouth to Roscoff Ferry with Brittany Ferries - Prices from £306
Plymouth to Roscoff Special Offers
8 days in France from £99 pp for car + 2 people return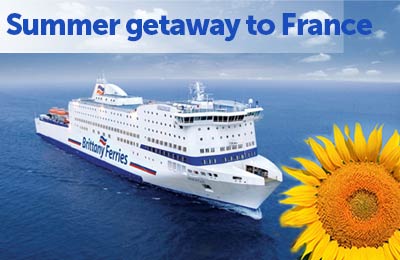 Book by 04/07/2019. Travel until 30/08/2019.
Sail with Brittany Ferries for 8 day return breaks from only £198 for car + 2 people, that's just £99 per person. Motorcycle and rider £99 return. Routes: Portsmouth to Caen, St Malo, Cherbourg and Le Havre. Poole to Cherbourg and Plymouth to Roscoff. Travel until 30 August 2019. Book by midnight 4 July 2019. Travel can commence in UK or France.
The Plymouth to Roscoff ferry connects England to France and is operated by Brittany Ferries.
If you're looking for cheap ferries from Plymouth to Roscoff, you've come to the right place! See below for the Plymouth to Roscoff timetable with all the ferries that go from Plymouth to Roscoff. You can also see the latest prices for Plymouth to Roscoff ferries below. If you see a price you like, just click the Get Price button to book!
Finding Cheap Plymouth Roscoff Ferries
AFerry.com always has cheap prices for Plymouth to Roscoff on this page but you can also find cheaper ferries to the same destination or nearby by comparing prices and times with us. Whichever sailing you choose, you can rest assured that you got a great deal with AFerry.com!
Special Offers - Terms and Conditions
8 days in France from £99 pp for car + 2 people return
Subject to availability from a limited and variable allocation of space. New bookings only. Promotional conditions apply Travel can commence in UK or France. Additional supplements apply for extra passengers, pets, larger/over height vehicles plus trailers and caravans.