Portsmouth to Caen Ferry
Portsmouth to Caen Ferry with Brittany Ferries - Prices from £140
Portsmouth to Caen Special Offers
8 days in France from £99 pp for car + 2 people return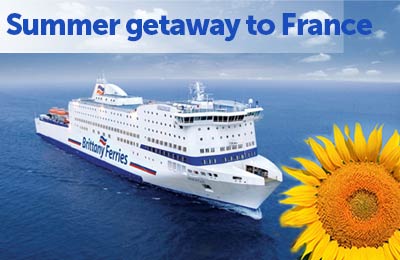 Book by 04/07/2019. Travel until 30/08/2019.
Sail with Brittany Ferries for 8 day return breaks from only £198 for car + 2 people, that's just £99 per person. Motorcycle and rider £99 return. Routes: Portsmouth to Caen, St Malo, Cherbourg and Le Havre. Poole to Cherbourg and Plymouth to Roscoff. Travel until 30 August 2019. Book by midnight 4 July 2019. Travel can commence in UK or France.
The Portsmouth to Caen ferry connects England to France and is operated by Brittany Ferries. As well as comparing prices and times for Portsmouth to Caen, we will also show you results for Newhaven to Dieppe and Portsmouth to Le Havre to help you get from England to France at the best time, for the best price.
If you're looking for cheap ferries from Portsmouth to Caen, you've come to the right place! See below for the Portsmouth to Caen timetable with all the ferries that go from Portsmouth to Caen. You can also see the latest prices for Portsmouth to Caen ferries below. If you see a price you like, just click the Get Price button to book!
Getting the best price for your Portsmouth to Caen ferry
With AFerry we always give you our best prices for ferries from Portsmouth to Caen. No matter which page you book from we always include all our special offers. And there is no need to look for a discount code. If we have an offer available, your ferry price will include the reduction or offer. There's no need to look at other websites.
If you're not sure if the Portsmouth to Caen route is right for you or you can't decide between ferry companies, if there is more than one, you might also find it useful to read any reviews we have available. We ask all our customers to send us reviews for Portsmouth to Caen ferries. Remember though, that the earlier you book, the cheaper prices normally are. So don't spend too long deciding! Portsmouth to Caen is a popular route, so we advise you to book as soon as possible.
About Portsmouth
Portsmouth is Britain's only island city, situated on the Portsea Island. The docklands area of Portsmouth have long been important for the Royal Navy (and, incidentally, home to the world's oldest dry dock) and there are a variety our walking and boat tours which will give you an insight into the city's past. The waterfront has recieved much needed renovation in the last decade. One result is the Spinnaker Tower which can be clearly viewed as you enter the port.
About Caen
Caen is the capital of Lower Normandy and lays between two rivers the Orne and the Odon. Caen was one of the many cities to suffer the ill-effects of World War II.
The city was bombed on D-Day and is said to have burned for a week before being liberated. The damage was on a grand scale and the only vestiges of the past to remain were the ramparts of the Chateau and the two great abbeys. These were built by William the Conqueror when he founded the City in the 11th Century.
The beaches are the sites of D-Day landings and some of the best to visit are Mulberry Harbour at Arromanches (northeast of Bayeux) and Pointe du Hoc on Omaha Beach. Caen has excellent shopping facilities and many other historic places to visit.
Special Offers - Terms and Conditions
8 days in France from £99 pp for car + 2 people return
Subject to availability from a limited and variable allocation of space. New bookings only. Promotional conditions apply Travel can commence in UK or France. Additional supplements apply for extra passengers, pets, larger/over height vehicles plus trailers and caravans.