About Wasaline Ferries
The new company operating under the brand Wasaline provides passenger/vehicle and freight transportations. Wasaline is owned 50/50 by the city councils of Vaasa and Umeå.
During the short ferry crossing, just four and a half hours, you will find comfortable seating, bars, cafés and everything you need to make your ferry journey relaxing and pleasant. You can enjoy a quick drink or snack in one of the onboard restaurants. Visit the duty free shop and find a wide range of souvenirs and essentials at great prices.
---
When you use Wasaline you are bound to have a relaxing and enjoyable journey.
Pet Booking Information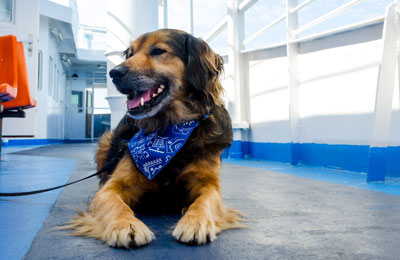 You can book your cat or dog on board a Wasaline ferry with AFerry. Pets must be declared at the time of booking because there is a limited number of pets allowed to be on board. And there is only a limited number of cabins that accommodate pets. Animals are allowed only in areas specifically reserved for that purposes or in a pre-booked pet cabin. Animals are not welcome to restoration areas, so please bring own bowls for water and food. For country-specific import restrictions, please consult your veterinary.
Just choose your route and then select the number of cats or dogs you are sailing with.
Note that to take your pet to and from the UK to mainland Europe and Ireland you will need a pet passport. To find out more about pet passports and travelling with your pet see our pet travel guide.