Rosslare to Pembroke Ferry
Rosslare to Pembroke Special Offers
25% off Motorist Fares to Britain and Ireland with Irish Ferries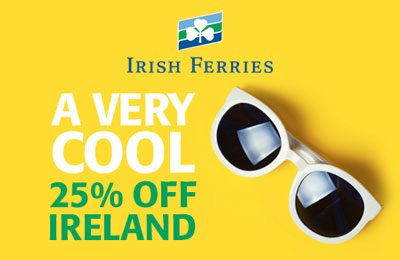 Book by 22/05/2019. Travel up to 18/12/2019.
Travel to and from Ireland and save 25% off your fare, now there's a cool deal for you! Choose from Holyhead-Dublin or Pembroke-Rosslare routes. Hurry, this offer disappears at midnight on Wednesday 22 May. Travel until 18th December inclusive.
The Rosslare to Pembroke ferry connects Ireland to Wales and is operated by Irish Ferries. As well as comparing prices and times for Rosslare to Pembroke, we will also show you results for Rosslare to Fishguard to help you get from Ireland to Wales at the best time, for the best price.
If you're looking for cheap ferries from Rosslare to Pembroke, you've come to the right place! See below for the Rosslare to Pembroke timetable with all the ferries that go from Rosslare to Pembroke. You can also see the latest prices for Rosslare to Pembroke ferries below. If you see a price you like, just click the Get Price button to book!
Getting the best price for your Rosslare to Pembroke ferry
With AFerry we always give you our best prices for ferries from Rosslare to Pembroke. No matter which page you book from we always include all our special offers. And there is no need to look for a discount code. If we have an offer available, your ferry price will include the reduction or offer. There's no need to look at other websites.
If you're not sure if the Rosslare to Pembroke route is right for you or you can't decide between ferry companies, if there is more than one, you might also find it useful to read any reviews we have available. We ask all our customers to send us reviews for Rosslare to Pembroke ferries. Remember though, that the earlier you book, the cheaper prices normally are. So don't spend too long deciding! Rosslare to Pembroke is a popular route, so we advise you to book as soon as possible.
About Rosslare
In Ireland, Rosslare is known as the "Sunny South-East". Every year it receives 300 hours more sunshine than anywhere else in Ireland, making Rosslare into a top tourist destination.
Furthermore, the sandy beach in Rosslare is a Blue Flag beach and that attracts families, swimmers and surfers alike. If you like playing golf, then near Rosslare, there are many golf courses including the New Ross Golf Club, a fine 18 hole parkland course, which is well worth a few hours play. In the town centre there are good hotels, restaurants and bars.
It is also worth exploring Rosslare's beautiful countryside with all the parks, fascinating villages and amazing views, which are hard to forget.
There are many places and villages to visit around Rosslare, like the Yola Farmstead Folk Park; Kilmore Quay (picturesque fishing village); Ballinskar, a village in which Spielberg shot some battle scenes for the film 'Saving Private Ryan'; and The Irish National Heritage Park where you will find audio-visual guided or self guided walks, which illustrate history from the Stone Age up to the early Norman Period.
About Pembroke
Pembroke is the historic home of the Pembroke Welsh Corgi - the Queen is known for liking this particular breed of dog and she owns several. It was also the birthplace of King Henry VII. Pembroke was the location for some of the first submarine bases when submarine warfare was a developing concept.
Special Offers - Terms and Conditions
25% off Motorist Fares to Britain and Ireland with Irish Ferries
Valid on all Irish Sea routes. Book online and 48hrs in advance and by midnight 22 May 2019. Travel from the 18 May up to 18 December 2019 inclusive. New bookings only. Subject to availability. Excludes: freight, bicycles, foot passengers, Sail Rail, land-bridge, next day return fares, inclusive holidays, Tesco travel tokens or any other 3rd party arrangements. Standard terms & conditions of booking & travel apply. Irish Ferries reserves the right to withdraw this offer at any time.