Dunkerque Ferries
Dunkerque Ferry Port - Prices from £35
Dunkirk ferry information:
The ferry to Dunkirk sails from Dover and is operated by DFDS Seaways. There are up to 12 crossings per day and the crossing time is approximately two hours.
---
When you book ferries to Dunkirk with AFerry, we also compare ferries to Calais with DFDS and P&O Ferries and Eurotunnel trains so you get the whole picture.
Dunkirk is one of our most popular ports, to get your desired sailing or a cheap price we always suggest booking early.
Dunkerque Special Offers
25% off Motorcycles & sidecars Dover to France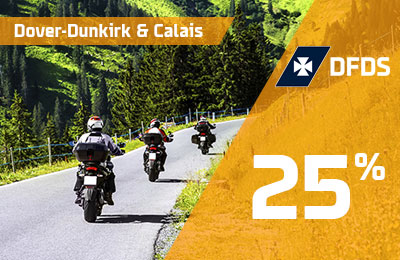 Book by 01/07/2019. Travel until 18/12/2019.
Get a whopping 25% off when you book your motorcycle & motorcycle with sidecar on the Dover-Calais and Dover-Dunkirk crossings with DFDS. Prices from £18.75, motorbike + 2 people each way. Offer applies to single and return journeys.
20% Off Dover-France sailings from Dusk to Dawn (10pm-6am)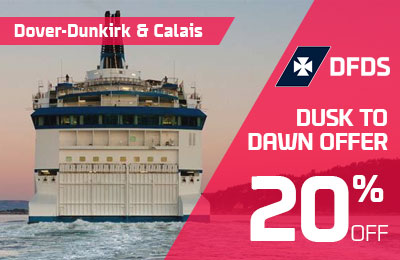 Book by 17 July. Travel all year on selected sailings.
Travel with DFDS from Dover-Dunkirk and Dover-Calais between 10pm and 6am & save up to 20% on your single and return fares. Travel until 31/12/2019. Prices from £36 for car + 9 people each way. Book soon as sailings fill fast!
Short Breaks to France from £35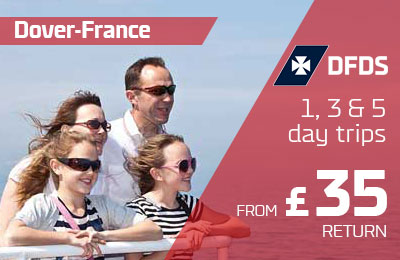 Travel before 17th December 2019, book this great offer and save.
Hop over to France and sail from Dover to Dunkirk or Dover to Calais and explore all that France has to offer. 1 Day returns from £35, 3 Day returns from £75, 5 Day returns from £85.
Ferries to and from Dunkirk
DFDS Seaways operates a fleet of three modern purpose built vessels on their cross-channel route between Dover and Dunkirk. This service is purely for motorists - no foot passengers or coaches are able to travel on this route, making getting on and off very quick. On board you will find A luxurious VIP lounge, a wide selection of restaurants and bars, dedicated play areas for children and shops offering great value.
So book your Dunkirk ferry quickly, easily and securely today with AFerry!
About Dunkirk
Dunkirk Ferry Port is situated across the Channel from Dover on the coast of northern France. The Port of Dunkirk is France's third largest port, because it is conveniently located between London, Brussels and Paris. Dunkirk allows passengers to quickly and efficiently embark, or disembark at the port, making it more convenient than the nearby port of Calais (45km away), which has far more sailings per day.
Dunkirk is a city that has a lot to offer, from shops and great traditional restaurants, to sandy beaches and a brand new golf course.
From Dunkirk port, you can easily reach the two covered shopping malls in the city centre, with all major brands and free car parking facilities available.
Dunkirk has 15 km of beautiful sandy beaches, known as the "Dunes de Flandre", making it an ideal holiday destination for families and surfers.
In Dunkirk you can taste original Flemish food as well as fantastic fresh local seafood. Dunkirk is also well known for its new 27-hole golf course, which is located just 15km from the port.
Special Offers - Terms and Conditions
25% off Motorcycles & sidecars Dover to France
Discount applicable to Motorcycle vehicle types only, other vehicle types are bookable but will not return 25% discount. All other Standard EC Economy Terms and conditions apply.
20% Off Dover-France sailings from Dusk to Dawn (10pm-6am)
Save 20% on selected late night and early morning crossings departing from Dover. Subject to availability. By booking this special summer offer for discounted travel at night and early mornings on selected dates you can only travel on the specified crossing(s) booked, you cannot make amendments AND you cannot get a refund. Excludes Sailings departing Dover on the following dates: July 21/22/28/29: August 04/05/11/12:
Short Breaks to France from £35
Terms: Subject to terms and conditions. Excludes these dates: February 15-17, 22-24, April 5-7, 12-14, 19-21, 26-28, May 24-26, 31, June 1-2, 14-17, July 11-31, August 1-31, September 1-4, October 18-20. Offer is available on return bookings only, with a car and up to 9 people - or with a motorcycle, with or without side car and up to 2 people. Outward journey must start in Dover. Offers may be withdrawn at any time.