Bastia Ferries
Bastia Ferry Port - Prices from £28
You can book ferries from Bastia to France, Italy and Sardinia with the operators Corsica Ferries, Moby Lines or SNCM using AFerry
Bastia Special Offers
Ferry to Corsica -50% off summer travel!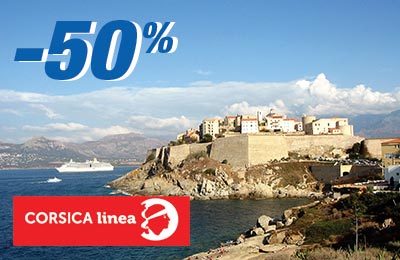 Book and travel by 29/08/2019.
Travel with Corsica Linea from France to Corsica this summer and get up to 50% off fares. Limited availability, book soon! Examples of prices (excluding taxes): one way Marseille-Ajaccio: car + 1 = 87.86 €: car + 2 = 136.62 €: car + 2 adults + 2 children = 212.14 €.
About Bastia
Bastia is the principal port of the island and was founded in 1380 by the Genoese. Today, it links the island of Corsica to France and Italy through a variety of Ferry service, all of which can be booked online through AFerry
Bastia has all the charm of an old Mediterranean town with its narrow streets flanked by tall buildings whose understated elegance is inhanced by painted shutters. It is a lively place where you will enjoy strolling about at will. Places of interest are the sites of the old port, the market, Saint Nicolas place, the cathedral of Saint Mary and the Saint Cross vault.
Ferries to and from Bastia
Corsica Ferries offer excellent cabins, bars, self-service and a la carte restaurants, children's playrooms, swimming pools, solariums and shops. A wide choice of cabins helps you relax and feel at home whilst on board.
SNCM is a major ferry company with a fleet of five passenger ferries. Depending on your route you will find a range of restaurants on board, children's areas, bars inside and on deck. Some ferries also have massage parlours.
CMN La Méridionale's fleet of three ships all offer spacious cabins and a range of comfortable seats, quality cuisine prepared on board, a cinema, and spacious lounges.
All Moby Lines ferries have children's play areas, games rooms and restaurants serving a range of delicious regional and international cuisine. An excellent range of cabins and seating options are also available for your comfort.
Bastia port facilities
Bastia Ferry Port offer a range of passenger facilties.
Getting to Bastia
Bastia is connected to the rest of Corsica by good a road network. There are connections between the four main towns Bastia, Ajaccio, Calvi and Ile Rousse.
Special Offers - Terms and Conditions
Ferry to Corsica -50% off summer travel!
Book by 19/06/2019. Travel from 11/06/2019 to 29/08/2019. 50% Discount available on routes from France to Corsica: Marseille-Ajaccio, Marseille-Bastia, Marseille-Île Rousse, Marseille-Porto Vecchio.