Calais to Dover Ferry
Calais to Dover Ferry with DFDS Seaways and P&O Ferries - Prices from £49
Calais to Dover Special Offers
Short Breaks to France from £35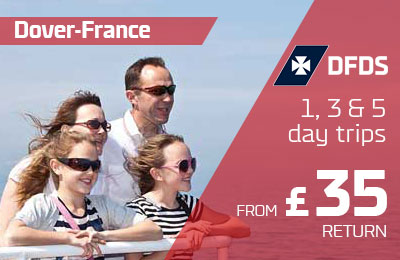 Travel before 17th December 2019, book this great offer and save.
Hop over to France and sail from Dover to Dunkirk or Dover to Calais and explore all that France has to offer. 1 Day returns from £35, 3 Day returns from £75, 5 Day returns from £85.
P&O Ferries short breaks to France from £89 return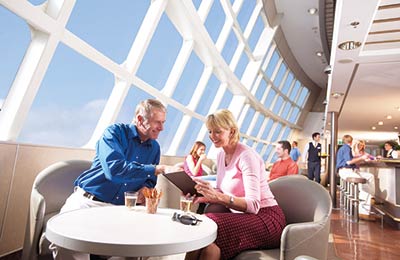 Book and travel by 14/12/2019.
Sail with P&O Ferries. Take your car & up to 9 people. 3-day returns from just £89 (Mon-Thur) and £94 return (Fri-Sun). 5-day returns from just £99 (Mon-Thurs) and just £103 from (Fri-Sun). Just book 2 days before your departure.
The Calais to Dover route connects Calais in northern France to Dover in Kent on the south coast of England. The ferry route is operated by P&O Ferries and DFDS. It is the shortest and quickest ferry route to England from France. There are up to 15 crossings per day with DFDS and up to 24 crossings per day with P&O Ferries. The crossing time is approximately 1 hour and 30 minutes. The distance from Calais to Dover is about 26 miles (41.8 km). This route accepts all vehicle types and P&O Ferries also accept foot passengers. Pets can also be booked on this route.
Getting the best price for your Calais to Dover ferry
With AFerry we always give you our best prices for ferries from Calais to Dover. No matter which page you book from we always include all our special offers. And there is no need to look for a discount code. If we have an offer available, your ferry price will include the reduction or offer. There's no need to look at other websites.
If you're not sure if the Calais to Dover route is right for you or you can't decide between ferry companies, if there is more than one, you might also find it useful to read any reviews we have available. We ask all our customers to send us reviews for Calais to Dover ferries. Remember though, that the earlier you book, the cheaper prices normally are. So don't spend too long deciding! Calais to Dover is a popular route, so we advise you to book as soon as possible.
About Calais
Tax is lower on cigarettes and alcohol in Calais, which means mean English tourists flock there for the 'booze cruises'. There are large warehouses around the town in which you can take advantage of these cheap prices, most famously Eurocity.
About Dover
Dover is the most popular port in England, and the gateway to France for many British tourists. Dover faces the narrowest part of the channel, and on a clear day you can see France from the ferry port. You can book ferries from Dover to Calais or Dunkirk with AFerry. With so many reasons to travel by ferry it is no surprise that Dover ferry routes are some of the most popular ways of travelling to or from the UK.
As the shortest channel crossing between England and France, Dover has been a popular port for people who wish to explore mainland Europe. The iconic chalk cliffs have become known as the White cliffs of Dover, and can be seen for miles across the channel. Dover prides itself in its transport services and tourism, and has 3 museums; the main Dover Museum, the Dover Transport Museum and the Roman Painted House.
Special Offers - Terms and Conditions
Short Breaks to France from £35
Terms: Subject to terms and conditions. Excludes these dates: February 15-17, 22-24, April 5-7, 12-14, 19-21, 26-28, May 24-26, 31, June 1-2, 14-17, July 11-31, August 1-31, September 1-4, October 18-20. Offer is available on return bookings only, with a car and up to 9 people - or with a motorcycle, with or without side car and up to 2 people. Outward journey must start in Dover. Offers may be withdrawn at any time.
P&O Ferries short breaks to France from £89 return
Valid on cars and high cars. Excludes Caravans/trailers, vans, minibuses, motorhomes, foot pax, motorcycles and bicycles, vehicles designed for commercial use. Excludes: 5th - 7th, 12th - 14th, 19th 21st and 25th - 28th April. 24th -26th May & 31st May. 2nd, 14th - 17th June. 11th July - 4th Sept,18th - 20th October.