Calais Ferries
Calais Ferry Port - Prices from £35
Compare ferries to Calais with:
DFDS. Up to 15 crossings per day. 1hr 30mins.
P&O Ferries. Up to 24 crossings per day. 1hr 30mins.
When you search for Calais ferries with AFerry, we also compare ferries to Dunkirk and Eurotunnel trains so you get the whole picture. We also automatically give you access to the latest offers and deals whenever you search. There is no need to enter a special offer code.
Calais is one of our most popular ports, to get your desired sailing we always suggest booking early.
Calais Special Offers
Short Breaks to France from £35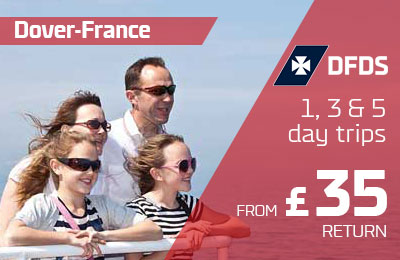 Travel before 17th December 2019, book this great offer and save.
Hop over to France and sail from Dover to Dunkirk or Dover to Calais and explore all that France has to offer. 1 Day returns from £35, 3 Day returns from £75, 5 Day returns from £85.
P&O Ferries short breaks to France from £89 return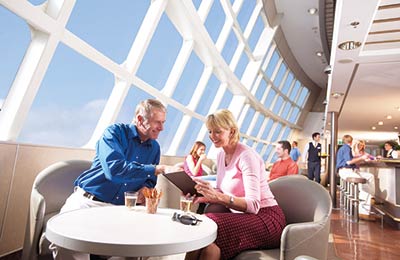 Book and travel by 14/12/2019.
Sail with P&O Ferries. Take your car & up to 9 people. 3-day returns from just £89 (Mon-Thur) and £94 return (Fri-Sun). 5-day returns from just £99 (Mon-Thurs) and just £103 from (Fri-Sun). Just book 2 days before your departure.
Ferries to and from Calais
P&O Ferries onboard facilities include shops, a coffee shop, restaurants, a Piano bar, cinema, live entertainment, casino, bureau de change and cabins to get a good night's sleep.
DFDS Seaways. In a joint venture between DFDS Seaways and LD Lines, you can now book ferries from Dover to Calais with DFDS Seaways. Their boats are of the highest standards and offer all the latest facilities.
Eurotunnel passengers remain with their vehicle for the duration of the short 35 minute crossing. You are free to relax in your vehicle or get out and stretch your legs. Visual display screens on board provide information about the journey and staff are on-hand throughout the journey as well as when you arrive and leave to help and answer any questions.
---
So, book your ferry to England's favourite French port simply and securely with AFerry!
About Calais
Tax is lower on cigarettes and alcohol in Calais, which means mean English tourists flock there for the 'booze cruises'. There are large warehouses around the town in which you can take advantage of these cheap prices, most famously Eurocity.
Calais Port
Calais ferry port is located across the Channel from Dover on the coast of northern France, it is situated on the most frequented shipping lanes in the world and is the closest French town to the United Kingdom. Calais ferry port is conveniently situated to allow easy access to the port itself but also to shops and restaurants in the surrounding area by being directly linked to the French motorway system. Ferries from Calais ferry port can be booked easily through AFerry
Calais port facilities
Free car parking facilities are available in front of the Calais ferry terminal the maximum stay is of three days.
Getting to Calais
Calais Ferry Port is directly connected to the European motorway network via two motorways, the A26/E15, which provides access to the heart of France including Paris and beyond, and the A16/E40, which is a gateway to Benelux and the northern European motorway systems. The A16/E402 directs you to western France.
From Calais ferry port, a 30 minute walk will take you to the centre of Calais. Taxi services are available to foot passengers and can be booked at the terminal.
On leaving the Calais Ferry Port you'll find the Calais Ville train station in the centre of town which provides a regular service to Paris Gare du Nord as well as other major towns and cities in the area.
Special Offers - Terms and Conditions
Short Breaks to France from £35
Terms: Subject to terms and conditions. Excludes these dates: February 15-17, 22-24, April 5-7, 12-14, 19-21, 26-28, May 24-26, 31, June 1-2, 14-17, July 11-31, August 1-31, September 1-4, October 18-20. Offer is available on return bookings only, with a car and up to 9 people - or with a motorcycle, with or without side car and up to 2 people. Outward journey must start in Dover. Offers may be withdrawn at any time.
P&O Ferries short breaks to France from £89 return
Valid on cars and high cars. Excludes Caravans/trailers, vans, minibuses, motorhomes, foot pax, motorcycles and bicycles, vehicles designed for commercial use. Excludes: 5th - 7th, 12th - 14th, 19th 21st and 25th - 28th April. 24th -26th May & 31st May. 2nd, 14th - 17th June. 11th July - 4th Sept,18th - 20th October.